Main Street Landing, located on Main Street in Gloucester, will be ready next spring for residents to move into the new single-family home development for active adults.
Targeted at those 55 and older, these new universally designed homes offer wider than normal doorways and hallways, an open floor plan, lever controls, a two-car garage, two bathrooms and two to three bedrooms. There are a total of 126 single-family detached houses in Main Street Landing.
Angela Healy, president and founder of Andor Development, is striving to bring true aging in place to Gloucester. She wants residents of Main Street Landing to live comfortably, conveniently and safely as they age with the added support of Riverside Health System.
Healy retired from Riverside Walter Reed Hospital after 37 years of service in 2014. Two years later, she founded Andor Development and started developing Main Street Landing to bring true aging in place to Gloucester.
Over the past two years, Healy has worked with Riverside Health System to create Main Street Landing's Connected Wellness Program which will help residents stay active, independent and connected to services that will support optimal health. According to Heather Schouten, Executive Director of Riverside Lifelong Health's ChooseHome, services include:
—Wellness coaches;
—Telehealth services with Riverside Care providers;
—Riverside Wellness Center membership (includes access to fitness floor, pool, tennis/racquetball courts, non-fee-based group exercise and aquatics classes);
—Discounts off fee-based classes/programs;
—Complimentary resident-only fitness incentive programs, and
—Annual wellness assessments and goal planning with monthly check-in call to monitor progress.
Healy said she understands that not everyone knows how to navigate the health care system or has a family member or friend to be their advocate. At Main Street Landing, the wellness coaches will act as health care advocates for the residents and will be the liaison between residents and the health care system.
According to Healy, Ryan Homes, the builder of the development, sees the value of helping people age in place so it is going to cover the first six months of the Connected Wellness Program's participation costs for each homeowner.
Residents will also have the option to join Riverside ChooseHome which is a personal plan to age in place safely and affordably. This is under an incentive plan called the Main Street Landing Advantage Plan.
According to Schouten, depending on the plan selected by the resident, services provided may include a personal services coordinator, annual health and home safety assessments, a complimentary emergency response system, priority access to a coordination of transportation and long-term care services, and help covering the costs of long-term care.
Schouten also mentioned that people need to be healthy and living independently to join and there is a health assessment to determine eligibility for the program.
Main Street Landing is within two miles of shopping centers, restaurants, churches and Riverside Walter Reed Hospital. For those who enjoy the outdoors, Beaverdam Park and Warehouse Boat Ramp are also nearby.
"You could not ask for a better location to live than here," said Healy.
Healy also wanted to be environmentally conscious when developing the property. Only 30 out of 60 acres are being developed, while the rest will remain forested or green.
"I wanted to preserve as much as I could," she said.
Instead of building a pool and a clubhouse, there will be walking trails, a community garden, an outdoor pavilion and gazebos. By concentrating on these passive amenities, the residents Homeowner's Association fees will be cheaper. Riverside's Wellness Center will provide a gathering place, pool and more for the residents.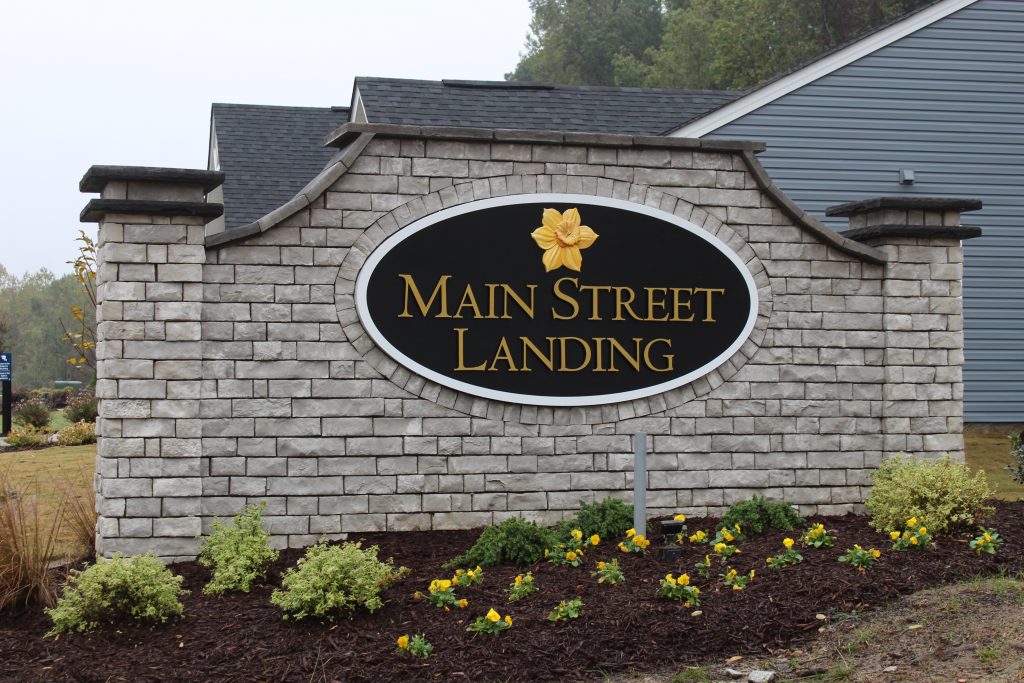 This community will also be an affordable alternative to Continuing Care Retirement Communities, which include assisted living and convalescent care.
"Facilities such as these have upfront entry fees as much as $300,000 and $10,000 per month," said Healy. "Main Street Landing is an affordable alternative offered at a fraction of the cost that allows residents to stay in their 'forever home' because services and care comes directly to them."
Main Street Landing is the start of what Healy hopes to be many aging-in-place communities. She wants to bring these communities to other localities that also have a need for them.
"I'm so passionate about this community and my sincerest hope is that Main Street Landing will make a difference in the lives of seniors who will live worry free and at peace as they grow older," she said.
People are already showing interest in the Main Street Landing community. According to Healy, over 500 have signed up for the Ryan Homes VIP list to receive regular updates about Main Street Landing.
To learn more about Main Street Landing and sign-up for the VIP list, visit www.ryanhomes.com and search under zip codes 23061. Call Ryan Homes Senior Sales Representative Kristen West at 757-356-2718 if you have any questions.