Donald H. Bowman of Mathews, died on March 31, 2020 from complications following a fall.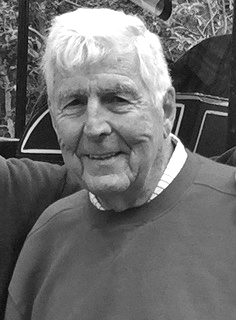 He is survived by his four children, Lisa Bowman, Roland Bowman, Lillian Bowman Maland (Mark), and Mary Bowman Mapes (Tim); as well as four grandchildren, Isaac Bowman, Shannon Bowman Seltsam, Ben and Evan Mapes, and two great-grandchildren, J.T. and Natalie Seltsam.
Don was born on Oct. 1, 1924 in San Antonio, Texas, to Lillian and Rolland Bowman. Following a four-year enlistment in the Marine Corps during World War II, he attended Baylor University in Texas, graduated from George Washington University in Washington, D.C., and studied law at Smithdeal-Massey School of Law in Richmond, Virginia.
He began practicing law in Mathews with State Senator Marvin Minter in 1956. Over the years, he worked with Billy Hudgins, Richard Harfst, and ultimately as a sole practitioner until his retirement in 1990.
He was an avid whitewater canoeist and traveled over the country pursing his love of the outdoors and the challenge of navigating increasingly difficult rivers. He also became an accomplished golfer, spending time researching and honing his craft, and having a lot of fun competing with his sons-in-law and grandsons.
A memorial service will be held at a later date. In lieu of flowers, please donate to either the Gloucester-Mathews Humane Society or the Mathews Volunteer Rescue Squad.