As tough as COVID-19 has been on business in general, it has created an unexpected boom in the recreational boating industry. Stacey Wright, general manager of Oyster Cove Boatworks in Gloucester, and Tina Minor, general manager of Morningstar Marina in Mathews, both said they've been busy all summer, and there's no sign of a letup.
"Our salesmen are selling like crazy, and our service techs are busting their butts," said Wright.
She said by the end of July, Oyster Cove had sold out of all new inventory, along with most used inventory and brokerage boats. She currently has just four new boats in stock, and everything has begun shipping later than normal, so delivery times are taking longer.
Minor said that she usually hires new people for Morningstar Marina in March, but after interviewing 15 prospective employees, the pandemic hit, so she put a hold on new workers. She finally brought them in at the beginning of May for training, but wasn't sure what to expect for Memorial Day. She needn't have worried. Memorial Day was big this year. On top of that, it wasn't followed by the usual lull.
"It's been a holiday every weekend," said Minor. "It's the only thing people can do besides camping."
Wright said that sales aren't the only part of Oyster Cove's business that's booming. The service department has been hustling to keep up with the demand for installing stereos, GPS systems, trolling motors, and other custom items, as well as repairing and servicing engines.
"Several people have told me 'If I can't go on vacation, I'm gonna go fishing—or boating," said Wright. "They can't be grouped together, there's no sports, and they want to get outside. So they're choosing boating as their recreation."
Minor said it's like nothing she's ever seen before.
"It's been a great surprise to see the flow of people," she said. "I'm just hoping our new customers will stay and not give up boating when COVID is over. It's been a blessing in disguise for a lot of people in the recreational business."
Oyster Cove Boatworks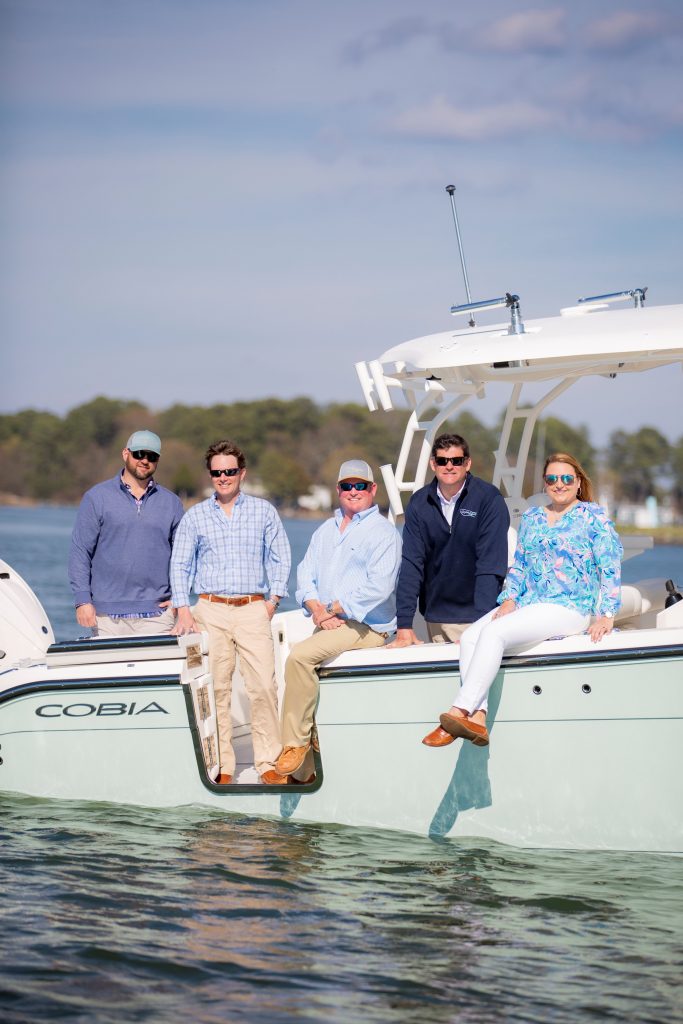 Oyster Cove Boatworks and Yacht Brokerage is owned by Chris and Katie Leigh of Gloucester. The company sells Sportsman and Cobia pleasure boats up to 34 feet and is a key dealer for Yamaha, selling over 100 outboard motors annually, said Wright. On the brokerage side, the business sells yachts of every size.
In business in Gloucester since 2010, Oyster Cove recently opened a second dealership in Virginia Beach.
In spite of the fact that COVID-19 kept the business from holding its annual open house this year, Wright said that Oyster Cove is "growing and growing."
"We're a one-stop shop for boats," she said.
Wright said the Oyster Cove prides itself on service, and she shared an email she received from customers Chris and Carol Nyce on Aug. 24. The Nyces recounted how Oyster Cove "went the extra mile" in arranging transport for their new Sportsman and even arranged to surprise the couple, who were unaware it had arrived. Staff members festooned the boat with balloons and a Happy Birthday banner and tossed in a bottle of wine for good measure.
"The time and effort that went into arranging delivery during this challenging time and in putting together the aforementioned surprise was really something special, and likely something we would not have experienced with anyone else in your industry," said Chris Nyce in the email. "Carol and I greatly appreciate and value the Oyster Cove experience and service so far, and we'll continue to come to you all for servicing and anything else we might need going forward."
Morningstar Marina
Morningstar Marina is a full-service marina with two full-time mechanics offering a full range of services, said Minor, from routine maintenance to complete repower. It also offers all cosmetics, from bottom painting and fiberglass to boat detailing.
The marina has a fully-stocked ship's store, with an upstairs apartment to rent to customers. It sells marine-grade fuel.
The marina also offers indoor dry storage on a monthly or yearly basis, said Minor, and it has seasonal, yearly, and transient wet slips available.
Operational changes the marina has made because of COVID-19 include limiting in-store customers to one at a time, restricting the storage building to crew only, reducing gatherings at the dock, spraying dock carts down with disinfectant, and "providing sanitizer everywhere," said Minor.