Peggy Ann Pollard Bass passed away of natural causes on Wednesday, March 18, 2020 at the age of 83. She left this Earth peacefully at home, surrounded by two of her loving daughters.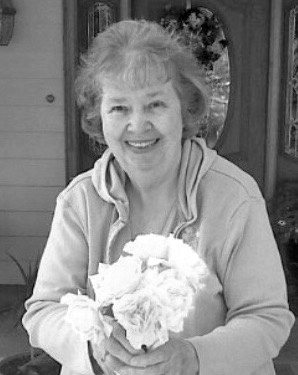 Peggy was born Aug. 2, 1936 in the seaside village of Edenton, North Carolina, on the heels of the Great Depression. She was the fourth of five daughters. Her mother died during childbirth when Peggy was one year old, leaving her papa to raise his daughters alone. She loved to tell stories about adventures with her sisters, living on a houseboat and fishing with her papa. Her early life in Edenton would mold and shape her into the resilient, kind person she would become. A deeply spiritual woman, Peggy lived her life in faith and grace. She had an unwavering belief in God, which has become the legacy that she leaves her family. She found good in every person and circumstance, and she had a deep love for all people and animals.
Peggy moved to Goldsboro, North Carolina, during high school. Quiet and shy, she told stories of being encouraged by her 10th grade speech teacher, who helped build her confidence. (The teacher she would nonchalantly mention went on to become an actor: Andy Griffith!)
During high school, Peggy went on a blind date with a young man named Hubert Bass, whom she married in 1955. Together they had six daughters. Hubert would make his career as a Navy Seabee, and he often praised Peggy for being the "best Seabee wife" a guy could have. She never complained about constant relocations or being left alone to tend to the girls during his long deployments. During his absence Peggy was the backbone and source of strength of the family. She provided a nurturing, loving home instilling independence, kindness, and faith in her girls.
Peggy went on to be a major presence in the lives of her grandchildren. They loved thrift store trips and eating ice cream for breakfast in a special wooden bowl. She was also curious, mischievous, and a wonderful storyteller. She loved all things pink, Betty Boop and Lucille Ball, John Wayne, and the Golden Girls.
Peggy was a resident of Gloucester, Virginia, for 28 years before spending the past 10 years in Long Beach, Mississippi, where one of her favorite pastimes was visiting the Long Beach Senior Citizen Activity Center. At the center, Peggy was introduced to painting and ceramics at the age of 77, which she took to and produced numerous pieces for her children and grandchildren. There, she also developed strong bonds with women whom she remained close with even when she could no longer visit the center. And she won many games of bingo!
Peggy was predeceased by her husband, Hubert Dale Bass; their infant daughter, Joy Levonne Bass; her parents, Charles Myrtle Pollard and Elma Spruill Pollard; her sisters, Ruth Bowyer, Mary Robinson, Jeanette Brown, and Connie Pollard who died at birth.
She is survived by her daughters, Anita Kay Gardner (Michael), Peggy "Darlene" Cruthirds (Mark), Winifred "Dale" Bass (MSgt., USAF-ret.), Lydia Bass Fuller (James), and Cheryl Bass LeMasters (David). Peggy is also survived by her grandchildren, Stephanie Nicole Cruthirds-Melancon (Jennifer), Toni Anne Cruthirds (Josiah Urban), Troy Deg Singh Fuller, Jessica Ann Fuller, Meredith Grace LeMasters, and Hugh Michael LeMasters; a great-grandchild, Benjamin "Fischer" Cruthirds-Melancon, and she is also survived by numerous nieces and nephews in North Carolina and her beloved cat, Yogi.
The family would like to thank her amazing team from Deaconess Home Health in addition to her team from Southern Care Hospice, especially Chris Radix and Tiffany Edwards.
Just as Peggy was born in a tumultuous time, she departed the world during a global pandemic. Because of this, there cannot be a public service. She would say "that's OK, tomorrow will be a better day," so with that spirit, the family will host a public Celebration of Life Memorial at a later date.
In lieu of flowers, Peggy would want you to take care of one another during this uncertain time. Check on your neighbor, feed stray animals, and continue to spread love.
The Riemann Family Funeral Home, Long Beach, is serving the family and online condolences may be offered at https://www.riemannfamily.com/obituary/Peggy-Bass.