Maida G. Hudgins, 88, of Mathews, better known as Mate, Maida, Ms. Maida, Grandmomma, Mimi and Gigi by those who knew and loved her, joined her heavenly father on Friday, March 13, 2020.
A native of Baltimore, Maryland, she was born on April 8, 1931, and was preceded in death by the love of her life, Charles D. (Sonny) Hudgins; parents, Herman and Elizabeth Gunter; sisters, Gladys Lamberson, Clara Geckle, Nancy Reitz, Toni Maranto, and also her brother, Howard Gunter.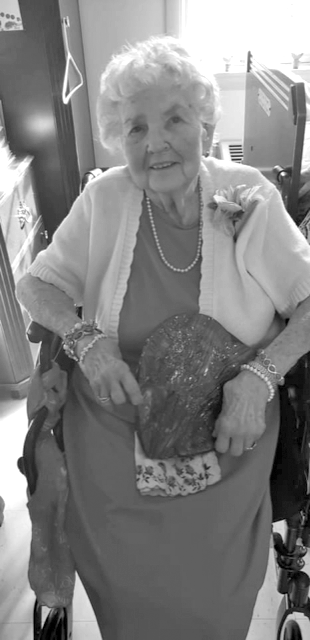 Maida was a faithful member of Peniel Friends Church for many years and loved her church family. Maida was very talented and creative. She shared her many talents with her children, grandchildren and all of their friends through the schools and church. Everyone that knew her or her family surely has numerous special poems written especially for them by Maida.
She is survived by her four children and their spouses, Rickie Hudgins, Ronnie Hudgins (Maxine), Laurie Walden (Danny), and Kennie Hudgins; her brother, David Gunter (Nina); her grandchildren whom she adored, Anna Jenkins (Preston), Ron Hudgins, Jen Walden (Terry), Rhonda Ramsey (Robert), Holly King (Josh), Robbie Hudgins, Danny Walden Jr. (Kristen) and Kyle Hudgins (Kayla); 13 great-grandchildren, Justin, Kevin, Nathan and Autumn Jenkins, Layla Hudgins, Landon, Adalean and Elouise Hudgins, Abigail and Jack Ramsey, Peyton and Cooper King, Aubrey Walden, and many nieces and nephews.
Her family would like to thank everyone at Riverside Convalescent Center-Mathews, for the wonderful care given to her over the past three years.
Services were held at 2 p.m. Sunday, March 15, 2020, at Faulkner Funeral Homes, Foster-Faulkner Chapel, Mathews. Interment followed at Pear Tree Cemetery.
In lieu of flowers, memorial donations may be made to Mathews Volunteer Rescue Squad, P.O. Box 723, Mathews, Va. 23109 or to Pastor Thomas Steel, Peniel Friends Church, 16091 General Puller Hwy., Deltaville, Va. 23143.