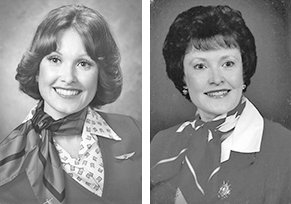 Having earned her wings, Linda Ruth Sadler Revere of Mathews, slipped the bonds of earth on Saturday, Feb. 29, 2020.
The only child of Richard Ashley Sadler and Flora Hudgins Sadler, Linda lived for a time in the family's ancestral home on Winter Harbor. It was a home to which she would later return. She was a good student, excelling in the art of debate and a force to be reckoned with in forensics competitions. She was a natural beauty, and was crowned Miss Mathews as a high school senior.
For a time, she worked at the Naval Weapons Station in Yorktown, and while there was encouraged by a close friend to enroll in modelling school. Linda took to the runway. Later she graduated to instructor status and taught classes on the social graces. Around this same time, she attended Thomas Nelson Community College, majoring in Mortuary Science.
Her true calling, however, was as a flight attendant, which she took on at a time when air travel was in its heyday. Her career with United Airlines spanned 27 years, and she took full advantage of the opportunity to travel widely. Those trips she remembered most fondly were the ones she took with her parents—to Hawaii, and to the UK.
The water and enjoyment thereof in its full measure was always part of her life: the Chesapeake Bay and the Chickahominy River in particular. She liked fast boats and had one of her own, an Allison Craft. Even as she lay dying of cancer, one thing that would always bring a smile to her face was memories of those days on the river.
Among her greatest joys she counted marrying the love of her life, Everette "Sonny" Revere on Jan. 21, 2000. Another was serving as Director of Music and playing the organ at Bethel United Methodist Church for many years. A third was moving back into her childhood home, the fifth generation of her line to live in that house on Winter Harbor, which she and Sonny lovingly restored. A fourth was her cats, and there were many that graced her life. All who knew her knew her as a tireless advocate for animal welfare.
Aside from Sonny, she leaves to treasure her memory a goddaughter, Kimberly Satre; two godsons, Ben and Tim Moore; an aunt, Joyce Hudgins; cousins and friends too numerous to mention.
A funeral service will be held at Bethel United Methodist Church, 1459 Garden Creek Road in Mathews, on Saturday, March 7, with visitation from 1-2:30 p.m. and service to start at 3. It will be followed by a brief graveside service and then a dinner at the church.
In lieu of flowers, donations may be made to the Gloucester-Mathews Humane Society, P.O. Box 385, Gloucester, Va. 23061.
Faulkner Funeral Homes, Foster-Faulkner Chapel, Mathews, is in charge of arrangements.