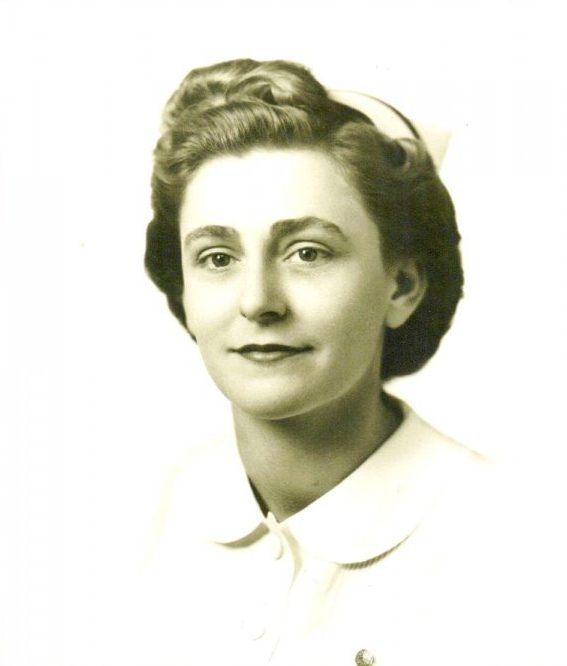 Lelia Kathryn Abernathey Lemmon of Raphine, Virginia, a prime representative of the Greatest Generation, was promoted to Glory Thursday morning, Jan. 22, 2021. She was born Oct. 7, 1921 at Nuttall in Gloucester, Virginia. At eight years old, the Great Depression descended upon Windy Hill Farm teaching young Kathryn some hard lessons to make her tougher than anything life would throw in her path. Years after graduation from Botetourt High School in 1939, she became the glue that kept their class reunions going until there were only three students left. 1943 brought the culmination of a dream with graduation from Elizabeth Buxton Hospital School of Nursing, followed by a rare blue seal award on her state board exams! Pursuing her career in Roanoke during WWII, Kathryn, fresh out of the Great Depression, saved up enough money to buy a home. Petersburg General and the Middle Peninsula as well as Eastern State Hospital and Sanders Nursing Home in Gloucester were recipients of her dedicated nursing skills. She was always at ease whether in talking with or caring for a pauper or a king. Her star shown brightly while at Eastern State Hospital where she "ministered" to multitudes of residents as well as her fellow employees. With her "hard work ethic," she "led by example" never asking anyone to do anything she wouldn't do—and, thus, won much heartfelt respect. She often hosted delightful outings at her home for her employees.
Her innovations in patient care were decades ahead of the curve and kept that RN in hot water with the "powers that be"; but, the residents loved the puppies and ducklings in the courtyard, the competition between men and women shelling field corn, shelling butter beans, hikes to pick up apples and then made pies, as well as running "Charlie's Market" (their own little store). With the proceeds they bought a record player for the day room! Kate not only nursed many back to health but also served as a forerunner of hospice—many times for weeks or months and that without charge! Likewise, her checkbook also witnessed frequent generosity to loved ones and friends. She was gifted at bringing those on the fringes of life toward the center of her circle of caring and concern.
During World II she had a patient not expected to survive the night. Dr. Buxton obtained a brand-new medicine from a nearby military base. Kate prepared and injected this new "miracle drug" and the man recovered! She later discovered she had given the first shot in a civilian hospital (at least in our area of the country) of a miracle medicine called penicillin! Her nursing activities lasted into her nineties as she would drive across the state to nurse classmates or kin back to health. Her influence is also seen in two of her three granddaughters becoming nurses and a great-granddaughter currently pursuing her degree in nursing! Kate was preceded in death by her parents, Charles Henry and Sarah Lewis Abernathey; her former spouse, Robert W. Lemmon, and by all nine of her siblings, Virginia Heywood, George, Aaron, Ashley, Bessie Clements Emory, Henry, Margery Hughes, Anne Henshaw, Leslie, and their spouses. She was the last of her generation. Survivors include her son, Galen (Joyce); granddaughters, Lara Taylor-McGhee, Reverend Sara Pettit, Bethany Keeler, and their spouses; 14 great-grandchildren; four great-great-grandchildren, and numerous nieces and nephews. Kate possessed a powerfully green thumb, be it in her amazing vegetable gardens or transplanting wild dogwoods and redbuds! In her early nineties she raised a 5 lb. 8 oz. sweet potato! When she moved from Mathews to Natural Bridge her community forbade vegetable gardens but flowers were okay. Soon "Grandma" had a thriving "flower" garden since squash, tomatoes, cukes, beans, sweet potatoes, et al, have blooms! The results of her green digit prowess were shared with neighbors and family.
The Great Depression conditioning saw her canning and freezing those goods as well as push-cutting her large yard into her nineties. Her home-cooked healthy meals were a wonderful memory and who could forget her fantastic crab casserole! In her day, she'd catch the crabs with a string and chicken bone, then steam and pick them. One of her favorite stories involved her high school basketball team. They were losing to Achilles at halftime, the coach gave her a major speech to "guard and stop Kate Hogg and we can win." She said, "But I'll foul out!" "No, you can do it! Go get her!" She did and Botetourt won the game! Years later she'd still pick up a softball bat or shoot a basketball, plus she walked nearly every day up until almost 98 years young. Never mind that 25 years before, upon seeing her terrible bone spurs, the shocked doctors urged immediate surgery to relieve the pain. The Great Generation-conditioned lady said, "No thanks, I work with old folks—it's just part of getting older!" Kathryn was a traveler ever since nursing school … having traversed America many times, Alaska a couple times, and outside the U.S. multiple times as well. There were some trips when she took along her son, grands or great-grands to enjoy the experiences of travelling with "Grandma!" Kate was a longtime member of Emmanuel UMC in Mathews and attended Beth Horon UMC in Natural Bridge. When it came to church projects, she was an organizer from missions to St. Patrick's Day programs. In her independent spirit, she despised the idea that the government had any business paying any of her bills. She worked hard and saved all her life in order to pay all her healthcare and assisted living expenses.
She refused to even have Medicare pay for her prescriptions! In fact, she survived a century without ever having a credit card! Though she never bought a gun in her life, she told me years ago "I've joined the NRA because they actually defend the freedoms I believe in." She was the queen of Scrabble and seldom experienced losing. If you delayed, she'd swing your tray around and say, "Ahhh, you could play this word right here and get a double score!" She could also teach you a thing or two about Rook; as one grandchild remembered, "Heaven help you if you didn't risk bidding high!" By the way, most of her great-grandkids fight for a place in Rook games before they are six years old! Kathryn loved her family; she was the "reunion lady" hosting three reunions and was always encouraging the family to get together. She even had an addition built to her home at North to accommodate more family fun, church fellowship, and, yes, Rook parties! We want to extend our sincerest appreciation and praise to all the staff and administration at Blue Ridge Christian Home. They have gone far above the call of duty with their overflowing compassion.
Last week, when another resident's family member heard Kathryn had tested negative for the fourth time, she quipped, "Of course she won't get COVID; she won't even get a gray hair!" So, not only will "hard work not hurt you," it may be the secret to not getting gray hair or false teeth at 99 years of age! She related to all ages. We have been amazed that even friends of her great-grandchildren have expressed loving memories of her. Kathryn was a very strong and independent lady who never gave up. She gave us confidence to follow her lead. She used that "strength conditioning" from 90 years ago to help others and make her world more like she dreamed it could become. God bless you, Mama! We love you!! Kate loved flowers but from that Great Depression perspective and from her practical nature, we know she would encourage you to make a donation in her memory to Blue Ridge Christian Home, 85 Beulah Drive, Raphine, Va. 24472. The viewing will be at 11 a.m. on Friday, Jan. 29, 2021, at Gwynn's Island Church of the Nazarene, 1009 Cricket Hill Road, Hudgins, Va. 23076, followed by a funeral service at noon, conducted by the Rev. Galen Lemmon of Glasgow, Va. Interment will be held in Locust Grove UMC Cemetery, 1832 Windsor Road, Dutton, Va. 23050.
Services under the direction of Hogg Funeral Home.