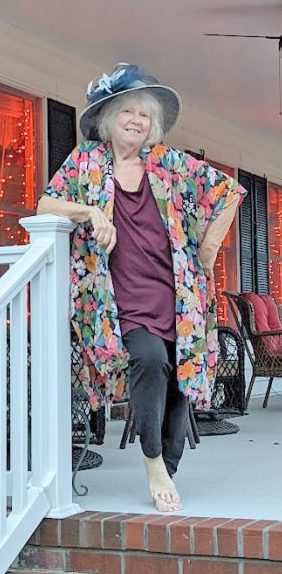 Kathleen O'Gara Flam danced her way offstage on Sunday, May 8, 2022, after a 2.5-year battle with breast cancer. She put up a good fight but was ready to be reunited with the love of her life, Michael, whom she lost on March 19. Mom was surrounded by her loved ones in her final days and passed peacefully in the early hours of Mother's Day. Mom has been known to be a little dramatic so she departed on a day we would never forget!
New York natives, Kathleen and Michael moved to Mathews County in 2016 to be closer to their family. She was a kind woman who loved talking with people; she never met a stranger she didn't know! If Mom wasn't talking to you, she was feeding you. Kathleen excelled in the culinary arts and no one ever left her home unfed; whether you wanted to eat or not. In addition to cooking, she loved blasting her music and dancing around the house. She passed her passion for music and dancing onto her daughter, as well as some of the neighborhood kids. If she wasn't enjoying her music, you could find her reading a good book; the scarier the better. She lived a fulfilling life and was loved dearly by her family and friends. Her family will be talking about her for generations to come.
Kathleen rejoins her dearest (and sometimes vexing) husband of 48 years, Mikey, after being apart for seven weeks. Kathleen will be remembered for being a wonderful, caring, and loving wife, mother, nana, sister and friend. She is survived by her daughter, Sherrylynn and Tim; grandchildren, Ashley and Josh, Timothy, Wayne and Krystal, and Zach; sister, Margy and Bob; brother, Joey and Judy; lifelong friend of 54 years, Betty (but known to others as Liz), and the Marys in New York, as well as many nieces and nephews. Kathleen was a cat lover and leaves behind her beloved "Gizmo."
A funeral service will be held at 11 a.m. on Friday, May 13, in the mausoleum chapel at Windsor Gardens Cemetery & Mausoleum, Dutton.
The family would like to thank Riverside Middle Peninsula Cancer Center, Dr. Khalil and Dr. West and the caregivers with Hospice, for their exceptional care of Kathleen during her illness, as well as their kindness. In lieu of flowers, the family requests you make a donation to the American Cancer Society (or a cancer foundation of your choice). Faulkner Funeral Homes, Foster-Faulkner Chapel, Mathews, Virginia, is assisting the family.