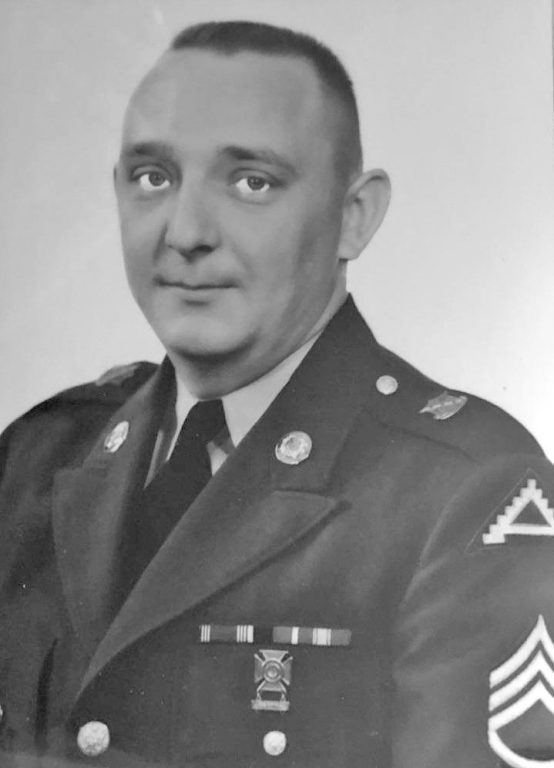 John R. Filichko, U.S. Army, Retired, First Sergeant, of Williamsburg, Virginia, Sunrise Dec. 1, 1929, Sunset March 17, 2020.
"A Letter To Opa"
Well, the time has come, and if I were to attempt to write on all your accomplishments, or the love I have for you, there wouldn't be enough print in this paper to cover it. I've heard some amazing stories from so many people that you touched; they all looked up to you and thought of you as the "Father" they never had. I knew you were always a special man; but I never realized what you meant to everyone else until now. Shirley is sure gonna miss you. She'll miss reading the morning papers, doing Meals-On-Wheels and taking the dog for rides to go see the other animals. Shirley really loved you, and I know you loved her too. Your sister, Diane, is going to miss you. Jimmy and Jackie always looked up to you as their favorite uncle and Diane told me some of the best times of her life were when she and Uncle Jim would come for vacation. Cheyenne is sure gonna miss the conversations you had and Bently is gonna miss playing "cars" with his "P" Pa. Valentine and Dallas will miss coming to spend the weekends with Opa and Grandma Shirley. But to keep up with your tradition, I will continue to spoil all the good little boys and girls. I know life growing up for you wasn't easy, losing your father at Anzio and your mother shortly after. Yet you overcame and became a great fighter in Golden Gloves and a great leader when you achieved Sergeant in the Army. You were responsible for turning many boys into men and you never failed. You've seen the world. You built a successful business with your bare hands. Whenever we were faced with adversities in our lives, you were always the person to look up to, and you always will be. (Opa, you left some mighty big boots to fill, and with the lessons you taught me in life, I promise to build on the legacy you created, because they are just.) I know you told me you didn't want a funeral because all your friends were gone and you didn't want anyone crying over your casket; so, I'm having you laid to rest at Arlington National Cemetery. I can't think of a higher honor for a hero like yourself. Things will be a lot different now, but your voice will always be in my head guiding me.
My grandfather was preceded in death by his daughter, Linda White; wife, Elfreida Filichko; son-in-law, Thomas Woodrow White; granddaughter, Heidi Holland; brother, George Filichko; brother-in-law, Jim Farone; nephew, Jimmy Farone; sister, Shirley Ann Filichko, and nephew, Jonny Filichko.
He leaves to cherish precious memories his loving wife, Shirley Tomlin; grandson, Thomas Lee White; great-great-granddaughter, Cheyenne Ferguson; great-great-great-grandson, Bently Ferguson; sister, Diane Farone; niece, Jackie Farone; great-great-granddaughter, Valentine Holland; great-great-grandsons, Dallas Holland, Killian Phillips, Ryan Brophy; great-great-granddaughters, Taylor Ingleldue and Emily Ingleldue; granddaughter, Tiffany Ingleldue, and daughter, Diane Filichko.
Love and Respect,
Your Grandson & Son, Tommy Lee White
Faulkner Funeral Homes, Foster-Faulkner Chapel, Mathews, Virginia, is assisting the family with the arrangements.