Fire destroyed a three-story waterfront home on Waverly Lane in Mathews County on Sunday. Homeowners Sam and Mary Ann Vogel escaped, but three of their cats died in the conflagration. The fire began around 1:30 p.m.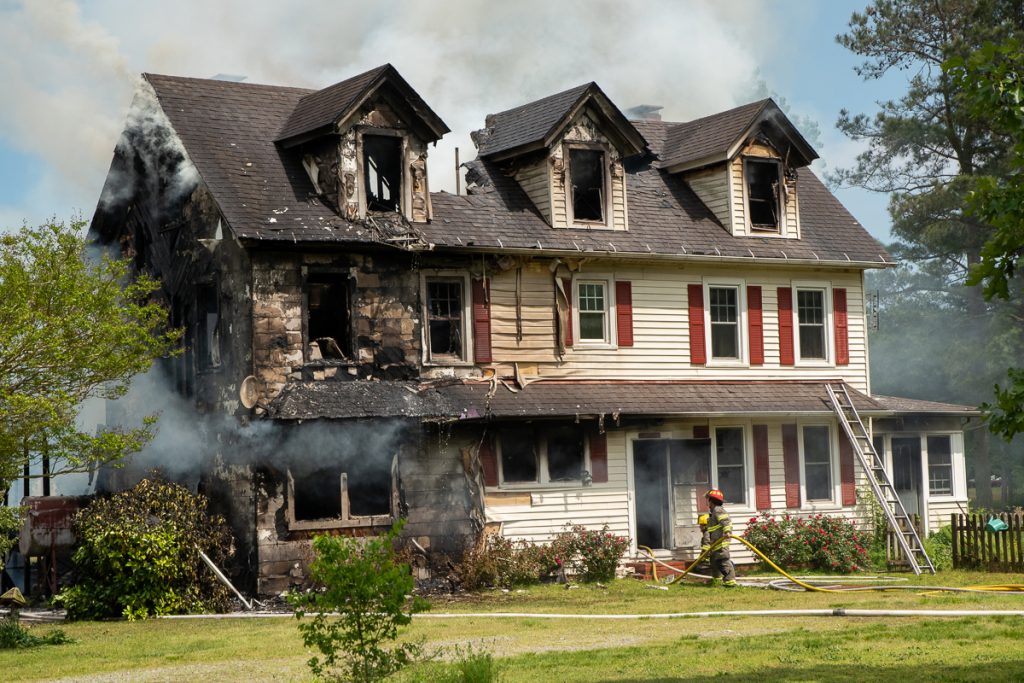 The Vogels' daughter Janice, who lives next door, said she heard her father, who has multiple health issues, calling for help from the back deck, and she rushed over to help, ushering her parents away from the home as the fire's intensity increased. She said her mother had left grease heating on the stove and had gotten distracted.
"It was a kitchen fire that went way out of control," she said. Another daughter, Diane, who lives across the street, arrived soon after.
Mathews Fire Chief Ronnie Lewis said there was heavy fire showing when fire trucks arrived shortly after the call came in. Firefighters attempted to launch an interior attack, he said, but the fire was too advanced, and they had to back out. When more manpower and resources arrived, he said, they were able to go back in.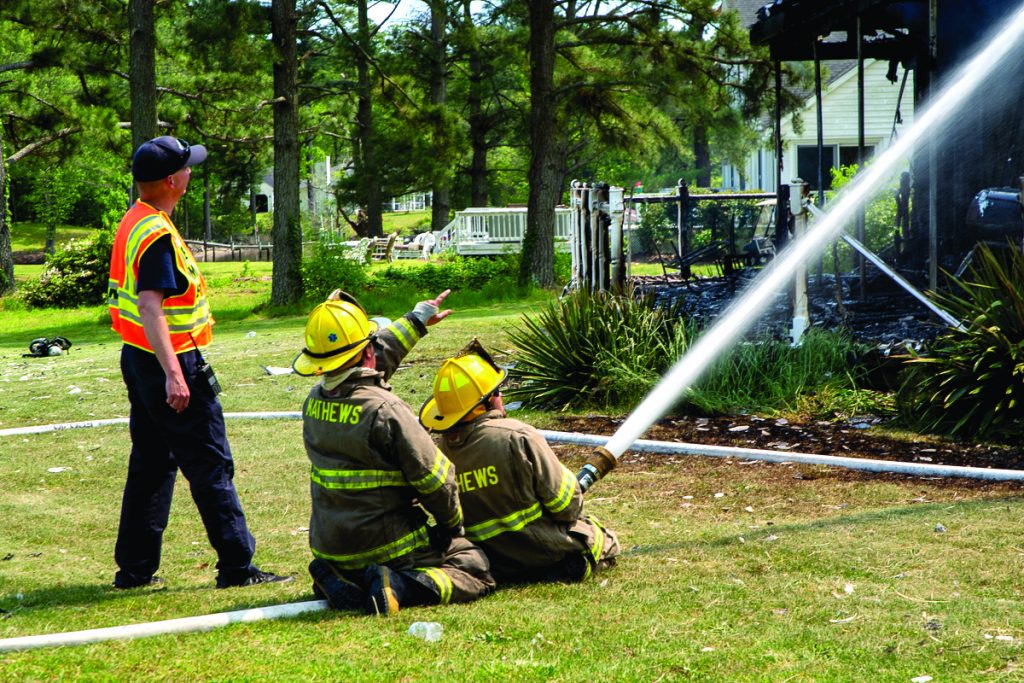 Five fire engines, a tanker, and a rescue truck from Mathews stations responded to the call, along with two engines and a tanker from Gloucester, one engine and a tanker from Hartfield, and one tanker from Deltaville.
Around 20 firefighters from Mathews, a dozen from Gloucester, and a half-dozen from Middlesex worked the fire, which "was very labor intensive," said Lewis. Also on the scene were Mathews Volunteer Rescue Squad and Mathews Volunteer Fire Department Auxiliary, which provided drinks and snacks
One Gloucester firefighter who wasn't feeling well had to be taken to the hospital, said Lewis, adding that it was possibly heat-related.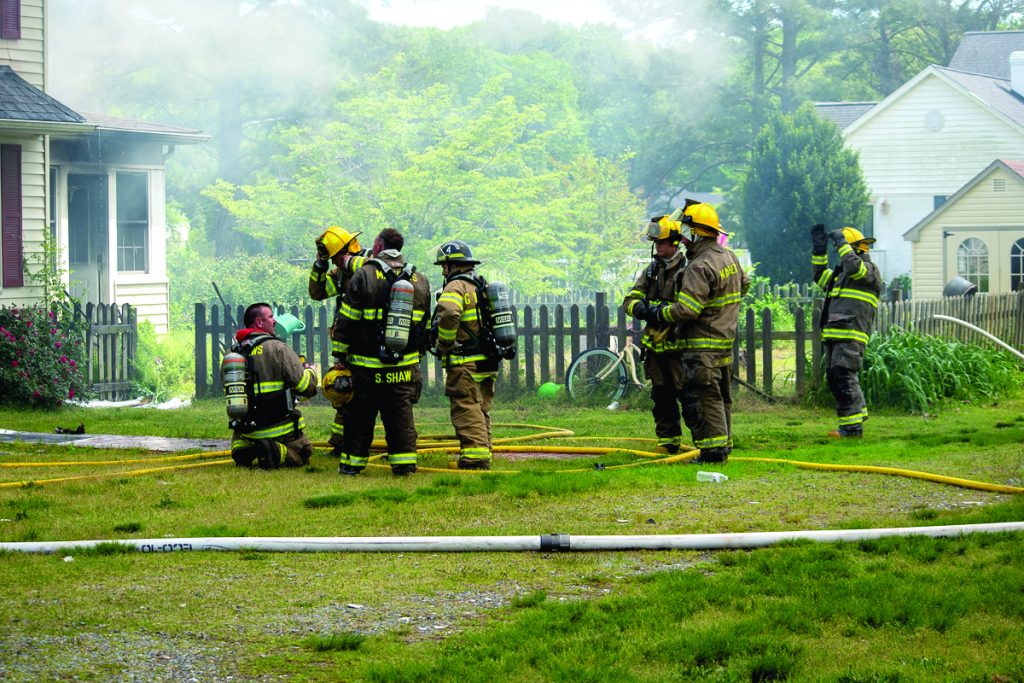 'An outpouring of love'
Janice Vogel said the whole neighborhood turned out to provide support throughout the ordeal, and that even some people who were out in their boat offered help.
"I don't have the words to express gratitude to everyone," she said. "They were bringing food and clothes the very first day."
One neighbor ordered a deli tray, said Vogel, and when they picked it up from the business, the owner refused to accept any payment and threw in $100 for the family.
"It's an example of so many wonderful friends and family and even strangers who helped," she said. "There's been just an outpouring of love and support. I can't say enough."
The house was insured, said Vogel, and her parents have moved in with her until they can rebuild.
The home, which was built in the early 1900s and purchased by the late Brigadier General Gustave and Mary Vogel in 1952, was filled with antiques, collectibles, and family heirlooms that can never be replaced, said Vogel.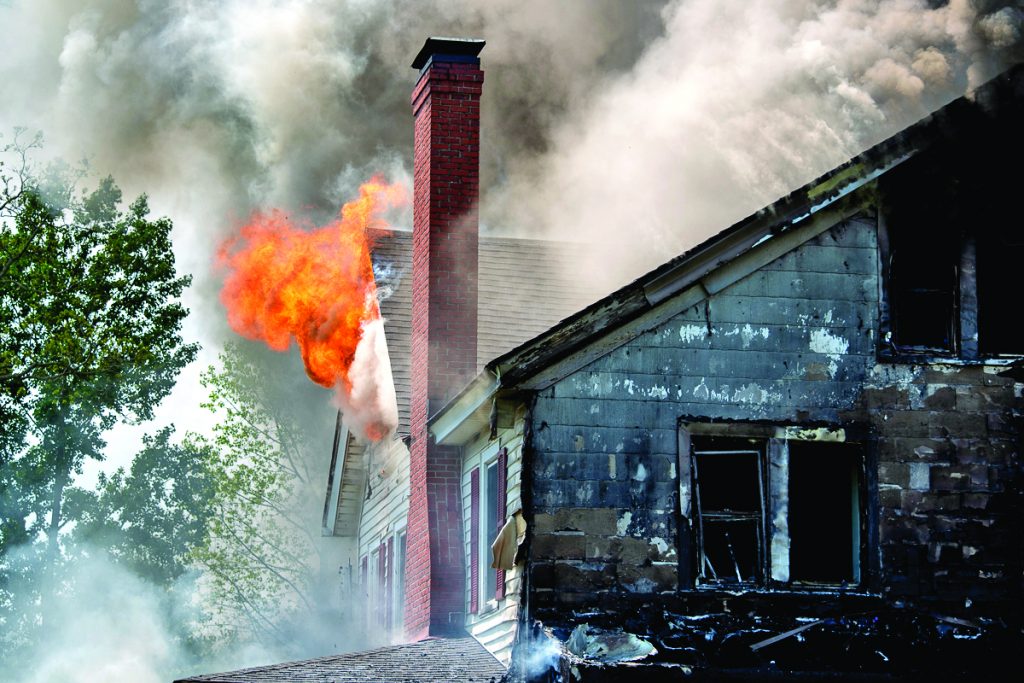 "This was the museum of the family history," she said. "But we don't even care. It's just stuff. We're okay, and that's all that matters."
Vogel said that both of her parents have health issues, and that the family had been coping with them while all living apart because of the COVID-19 pandemic. She said she had been doing her parents' grocery shopping to make sure they stayed safe.
"We weren't even seeing each other," she said. "Now we're all living together … It's a crazy time we're living in, but we're all still living, and that's all that matters."