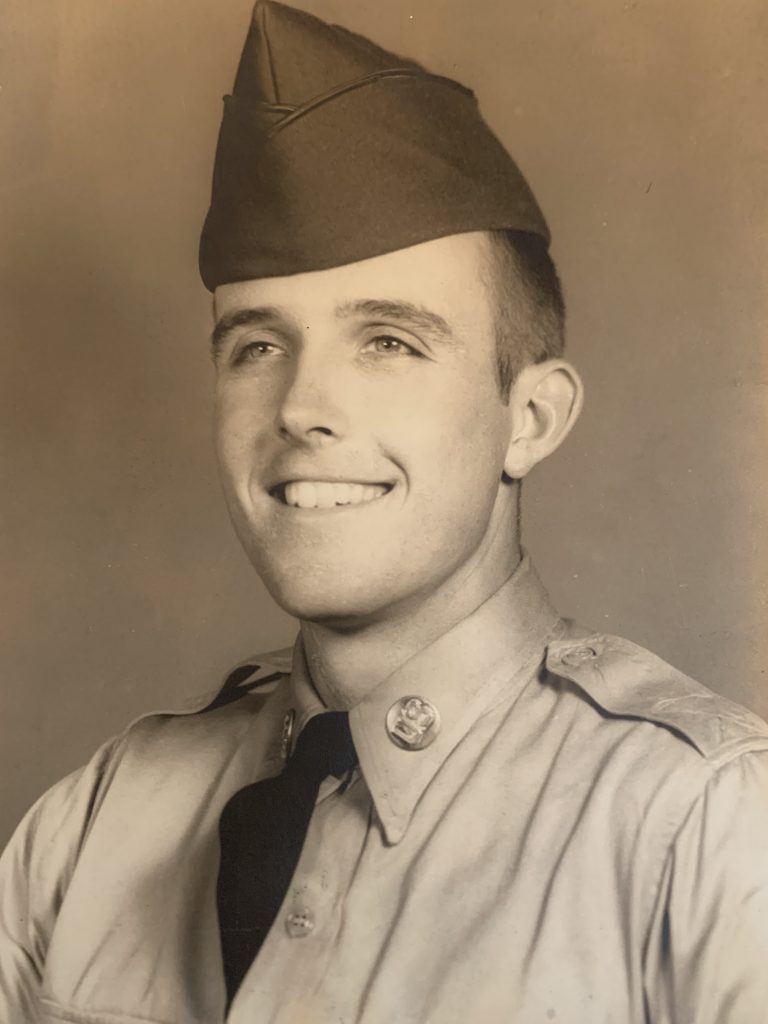 David Henry Teagle of Gloucester, passed away on Jan. 29, 2021. He was born on Nov. 1, 1934 at home in Bellamy, Va. He was the only child of James Henry Teagle and Dorothy Hudgins Teagle. He attended public schools in Gloucester and graduated from Botetourt High School, class of 1951. He furthered his education by taking classes at the College of William and Mary and completing an engineering program made available to him through his 38-year career at VEPCO, now Dominion Energy. He was an avid reader and enjoyed books on many subjects, especially history, war, current events, local history, and political best sellers.
He was a proud veteran having served in the 7th U.S. Army in Berlin, Germany, as a medic and then at Fort Knox, Ky. He was a member of the Berlin United States Military Veterans Association and enjoyed the annual reunions he attended rekindling old friendships and memories. A special memory for him was returning to Berlin in 2002.
David was a real outdoorsman who enjoyed fishing, hunting, especially duck hunting, crabbing, oystering, sailing, beekeeping, gardening, and just piddling around the Ware River. He was often seen early in the morning with his dog, Traveler, a Nova Scotia Duck Tolling Retriever, sitting on the bow of his boat, as he headed out to fish or to just enjoy nature. In later years, when he could no longer go in the boat, he would take Girlie, his third Nova Scotia dog, in his truck to Ware House Landing, where he sipped on a beer as they enjoyed the view and visited with anyone they met while there. He never met a stranger and his gift of gab and likeable ways made him a natural friend to many. He was fortunate to take many hunting and fishing trips throughout the states and Canada.
One of his simple pleasures was picking daffodils in his field and delivering them to his favorite people— church secretaries, doctors' offices, dental offices, neighbors, and friends. He also liked to deliver fish whenever he had a good catch. When his boys were in college, he would roll up for parents' weekend with oysters to roast or steamed crabs to eat.
He volunteered in the community whenever possible. He helped the Boy Scouts by making his famous clam chowder for their December fundraiser. He was a former member of the Lions Club and volunteered for GYB where he coached players who were lifetime friends and admirers. He was a member of the Gloucester County Wetlands Board for 22 years, serving as chairman for seven. He was an active member of Friends of the Dragon Run for years, Ducks Unlimited, founding member of the Ware River Yacht Club, and on the board of the Long Bridge Ordinary Foundation, now the Edge Hill House. David was a conservationist before it was vogue.
He was trained as the first representative in Gloucester to set up and monitor voting machines. He also worked part-time for a friend operating an electrical wiring business and after retirement helped a friend in his lumber business. He knew how to do most anything that needed to be done and liked to save money by doing his own repairs.
David was a great conversationalist and his friends were good listeners. He entertained the young and old with his adventurous stories whether at the poker table, on fishing and hunting trips, or at a party, and later at Heron Cove where the staff and hospice nurses treated him with respect and tender loving care.
He was a member of Ware Episcopal Church where he sang in the choir for a few years and served on the vestry as junior warden and senior warden. He was made an honorary vestryman when he could no longer be actively involved.
He is survived by his wife of 55+ years, Margaret Cushman Teagle (Margi); three sons and their beloved wives, Peter and Rachel, Thomas and Jeanne, and Robert and Rebecca. He, Poppa Dave, was loved by his eight wonderful grandchildren of whom he was most proud, PJ, Jack, Sarah, Meg, Caroline, Andrew, Meredith, and Matthew.
Even though he outlived most of his hunting, fishing, and card playing friends and relatives (sisters-in-law, Mary and Priscilla, and his brother-in-law, Claiborne), he treasured the few surviving friends, especially Eddie and his son Danny, and loved the luncheon outings to Bubba's with the boys. He always looked forward to visits from the Carolina Cousins and the Maryland friends, as well as visits from his local connections—church members, neighbors, friends, nieces, nephews, cousins, and power company retirees.
In lieu of flowers, donations in David's memory can be made to Ware Episcopal Church, P.O. Box 616, Gloucester, Va. 23061 or to the Chesapeake Bay Foundation, Philip Merrill Environment Center, 6 Herndon Ave., Annapolis, Md. 21403.
Due to the COVID restrictions, there will be a private graveside service for family members.
A celebration of life will be held later where great food, great friends, and great libations will be served to honor and remember a true "Virginia Gentleman," who was to all who knew him, "one of a kind." Andrews Funeral Home & Crematory, Gloucester, is in charge of arrangements.